---
TriA SNOM
Scanning Near Field Optical Microscope
---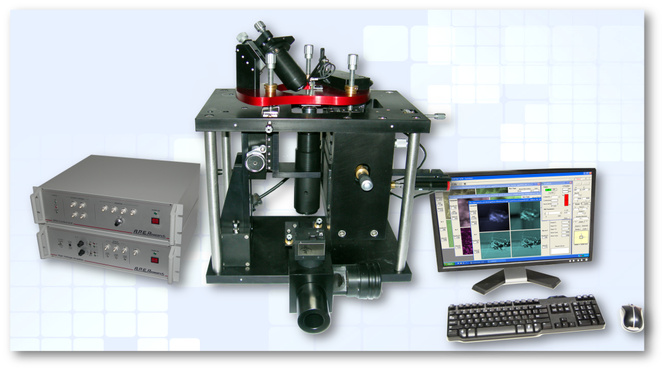 ---
The invention and subsequent development of scanning probe microscopy (SPM) methods have produced the necessary tools for a step forward in optical measurements.
The possibility to go beyond the Abbe diffraction limit has been achieved with the Near-field light optical microscopes (SNOM). This is employing the SPMs precision of piezoelectric raster-scanning together with small sharp optical probe to obtain optical images at subwavelength resolution.
TriA-SNOM
TriA SNOM combines the potentials of scanned probe technology with the power of optical microscopy. It brings a small optical probe very close to the sample surface, in the region called "near-field", and it allows the collection of optical signals providing image optical resolution below 100 nm.
Key features:
Integrated Double Optical Vision System for accurate positioning and far field optical investigation
Compatible with a wide range of light microscope modes
Separate or simultaneous transmission and reflection measurements
Large Operation wavelength range
Allows the light source set-up as top down or inverted
Independent high-performance photo detectors for multiple optical signals collection.
Easily expandable
Compatibility with third party scientific equipments
Applications:
Imaging the optical properties of a sample with resolution below the diffraction limit with applications in nanotechnology, biological studies, polymer investigations study of semiconductor materials
---

---