A.P.E. Research is specialized in:
Development of Scanning Probe Microscopy (SPM) and Nanotechnology applications
Research of new methods of SPM investigation in the biological and physical field
Research and developement of scientific instruments for surface science
Development of software for surface analysis, imaging and microscopy
---
Events and Articles
23-24 MAY - ULTIMATE WORKSHOP: Business and management skills for research
AREA SCIENCE PARK - Hybrid event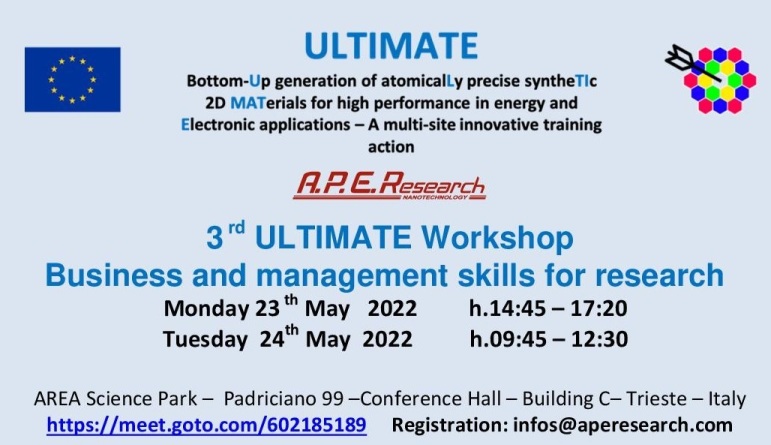 29 MARCH 2022 - CATHENA: (CAncer THErapy by Nanomedicine) Final Event - POR FESR FVG
University of Trieste H 15:00 - Hybrid event - Link: https://bit.ly/3Cxgass

21 October 2021 - APE SEMINAR at ICGEB Trieste: "Scanning Probe Microscopy: applications in Biology"
Laura Andolfi Ph.D. - Istituto Officina dei Materiali - Consiglio Nazionale delle Ricerche - Trieste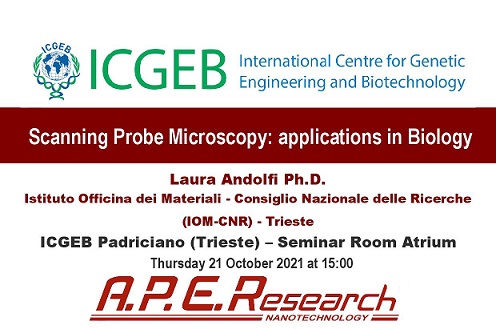 MAY 2021 - BIOSAFE: BIOfilm Sensing and Analysis For heEalth
POR FESR 2014-2020 FVG - The BIOSAFE project aims to develop an innovative and compact opto-mechanical sensors system for the monitoring of bacterial biofilm growth and the effectiveness of sanitizing treatments
31 March 2021- EU-MOVE Monitoraggio civico di progetti del Programma POR FESR FVG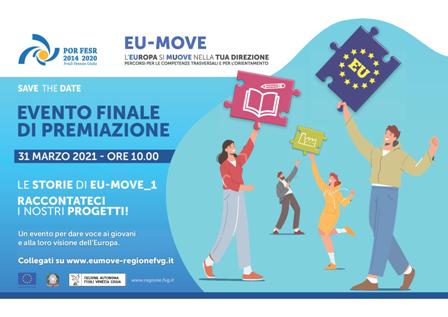 03-04 September 2020- Euro Bio High Tech 2020 - Smart Health
20-29 August 2020 - Role of Nanotechnology in Food and Agriculture organized by CNT, CAE, UAS, Raichur- INDIA
Webinar - Technical session 24 August 2020 - Dr. Stefano Prato A.P.E.Research srl
MAY 2020 - SUPERTWIN: New microscope technology sharpens the focus on viruses
A.P.E.research is the industrial partner - H2020-FETOPEN-2014-2015-RIA GA 686731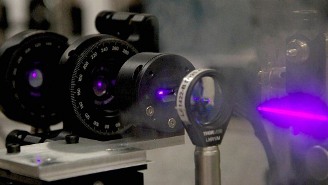 16-18 October 2019 - Meet in Italy for Life Sciences 2019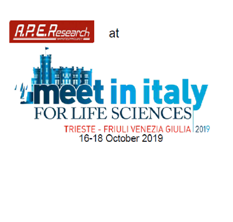 OCTOBER 2019 H2020-MSCA-ITN ULTIMATE Starts on 01 October 2019

.
JULY 2019 - Advanced Electronic Materials: front cover with image from APE instrument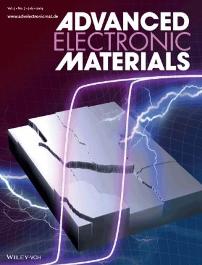 .
MARCH 2019 - SUPERTWIN: The entangled key to super resolution microscopy
H2020-FETOPEN-2014-2015-RIA GA 686731
News
---
2022
01/08/22 The APE headquarter in TRIESTE will be closed from 08/08/2022 to 19/08/2022 inclusive. During this time, neither sales and dispatch, nor delivery and receipt of goods will be possible. The last goods acceptance will take place on 05/08/2022 at 12 noon. From Monday, 22 August, we will be there for you again in the customary scope.
29 MARCH 2022 H 15:00 - CATHENA Final Event - LINK
2021
27/09/21 Euro BioHighTech 2021, A new era for Smart Health after COVID-19
15/05/21 NEW VIDEO: BIOSAFE - BIOfilm Sensing and Analysis For heEalth
31/03/21 EU-Move: il 31 marzo webinar di premiazione - POR-FESR 2014-2020
2020
03/09/20 Euro BioHighTech 2020, LIVE the most important event devoted to the biomedical sector
25/05/20 COVID-19 - We are operative and COVID-19 compliant!
2019
03/09/19 MSCA-ITN ULTIMATE ------ We hare hiring: ESR (CLOSED)
01/06/19 POR-FESR FVG - CATHENA - Cancer THErapy by Nanomedicine project starts
2018
03/12/18 POR-FESR FVG -BIOSAFE - BIOfilm Sensing and Analisys For hEalth project starts
26/09/18 Euro BioHighTech 2018, the most important event devoted to the biomedical sector, biotechnology and bioinformatics in the Alpe Adria area
05/07/18 Giornata del ricercatore - IRCCS Burlo Garofolo di Trieste - BIOVALLEY Investments: Ricerca ed industria
2017
18/09/17 Sources, Interaction with Matter, Detection and Analysis of Low Energy Electrons 2017 (SIMDALEE2017) Conference
01/01/17 H2020 MSCA RISE INFUSION PROJECT starts
2016
21-25/03/16 Forum des Microscopies à Sondes Locales